Lyda Hill Philanthropies' IF/THEN® Initiative presents #IfThenSheCan – The Exhibit. This monumental exhibit of 120 3-D printed statues celebrates contemporary women innovators in science, technology, engineering and math (STEM) and featured the most statues of real women ever assembled together. The individual stories of the women the statues represent, accessible through QR code-linked videos, images and biographies, highlights how a more diverse, more inclusive workforce will strengthen the world's shared future. If we support a woman in STEM, THEN she can change the world!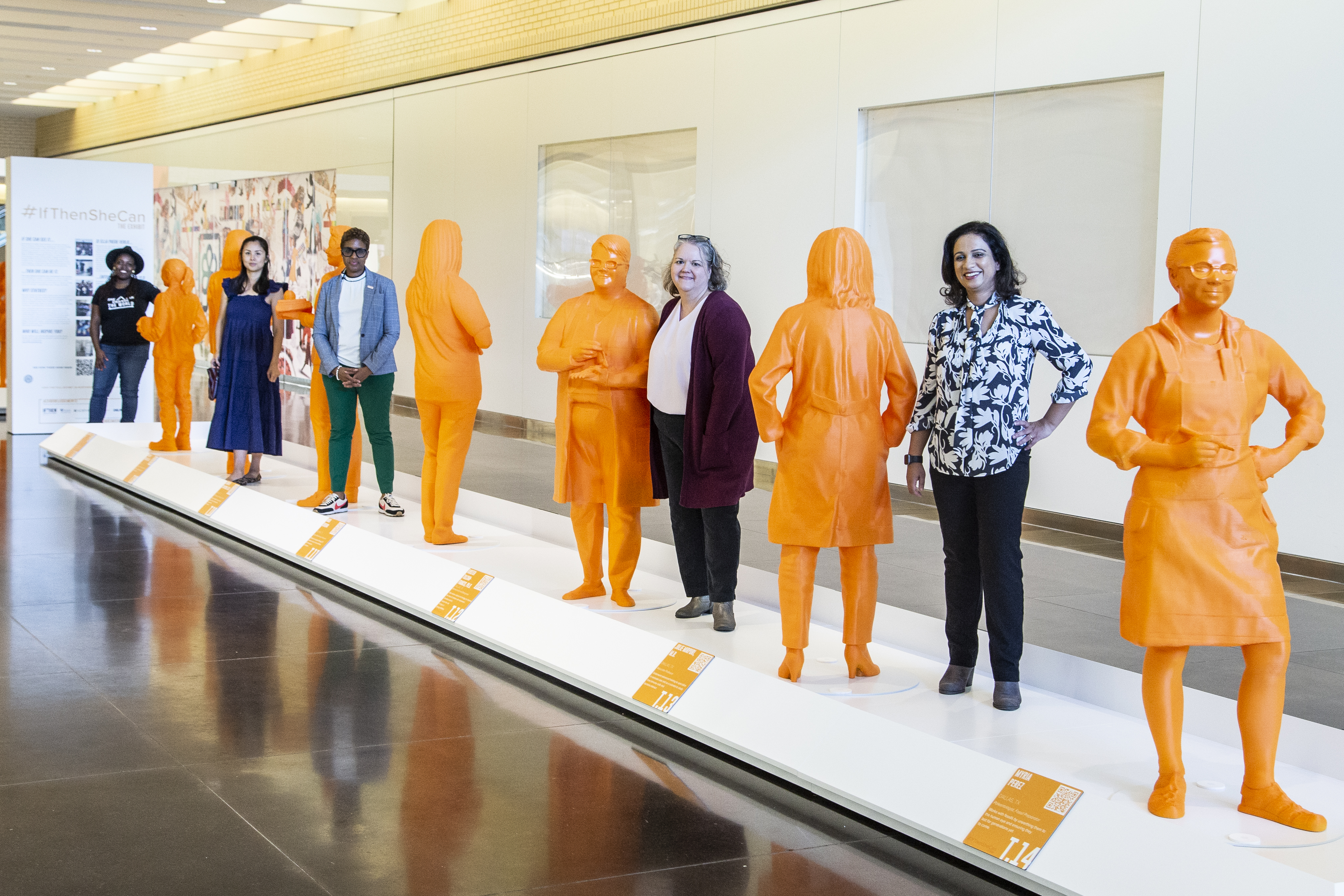 All 120 statues that make up #IfThenSheCan – The Exhibit have been displayed together twice – at Dallas's NorthPark Mall in 2021 and at the Smithsonian Institution in Washington DC in 2022 - setting a new benchmark, by more than an order of magnitude, for the most women statues ever assembled in one location, at one time. In the fall of 2022, all of the statues were distributed across Dallas in three pop-up exhibits at the Dallas Arboretum and Botanical Garden in the Rory Meyer's Children's Adventure Garden, in the Entrance Plaza of the Perot Museum of Nature and Science, and along the entry way to Pegasus Park, Dallas's unique hub for regional life sciences innovation and social impact. The statues at Pegasus Park remain on display today and are accessible to the public.
In 2020, limited preview pop-ups of the exhibit were on view at the Central Park Zoo in New York City, Dallas Love Field Airport and NorthPark Center in Dallas. The full exhibit debuted at NorthPark Center in Dallas in 2021 and on a national stage in March 2022 in Washington DC. Presented by the Smithsonian Institution in celebration of Women's History Month, all 120 statues were placed in museums on and around the National Mall.
IF she can see it...THEN she can be it
Women constitute half of the college-educated workforce but make up just twenty-five percent of the STEM industry. This exhibit showcases accomplished and relatable STEM role models whose stories are proof that gender is no barrier to any career. Their jobs include shark tagging, designing fashion, and training Olympic athletes—and that's just for starters. Selected to share their stories and serve as high-profile role models, these diverse innovators serve as Ambassadors for IF/THEN®, an initiative of Lyda Hill Philanthropies designed to activate a culture shift among young girls to open their eyes to STEM careers.
This installation is rooted in a simple truth: seeing is believing. When a girl sees a woman successfully pursuing a STEM career (and having fun), she is more likely to imagine a STEM career for herself … and perhaps even change the world.
Why Statues?
Who we choose to honor with a statue says a lot about our culture's values. Do you realize that most statues are of men? In fact, a 2016 study led by former Treasurer of the United States Rosie Rios found that the 10 largest U.S. cities publicly displayed fewer than a half-dozen statues of real women. Women also make up less than 30% of today's STEM workforce—could there be a connection?
Once it became clear that we need more women in STEM and more statues of women, it only made sense to use a high-tech approach to create the figures. #IfThenSheCan - The Exhibit is the largest 3D-printed project of its kind. Each subject stood in a scanning booth that combined 89 cameras and 25 projectors to generate a 3D image. To print the image, a special machine slowly built up layers of acrylic gel. Ten (or more) hours later: a full-sized 3D-printed human figure.
Acknowledgements
Thank you to all the partners that made the exhibit previews and the full Dallas and DC exhibits possible: